Sat 11 Feb 2012 03:59:23 PM PST
Ad bubble?
Doc Searls says there's an advertising bubble.
Maybe he has a point. One of the ways that you can tell a bubble is when the "bubbling" trend starts to break out into places it really doesn't belong. Ships rotting at the pier in San Francisco because the sailors thought they could do better mining gold. Online shopping for BOOKS FOR DOGS. Stuff like that.
This is the actual back cover of a restaurant bill from an actual restaurant.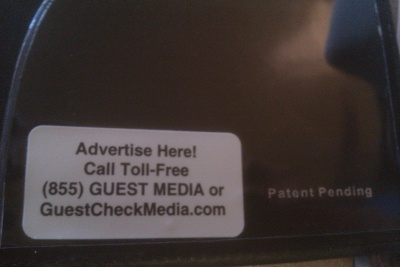 Inside: an ad. Who could have thought this was a good idea? You just enjoyed a meal and you're paying up, and they already want to sell an ad impression for something else?
(excuse the lousy photo. Lousy phone and no photo skills. Next time I'll just take Doc along.)
And synecdochic, on Dreamwidth, points out another one. "Solve Media's patent pending TYPE-IN, a method to advertise via CAPTCHA."
Can you use your sense of things getting silly as a bubble detector?